10 Essentials Oils for Colds and Flu
When I start to feel a little off, I always turn to my essential oils. They're my first line of defense against colds or flu. Essential oils have wonderful therapeutic properties and help shorten the duration of the illness when used at the first signs of symptoms including itchy eyes, sore throat, cough, sneezing and mild fever or just the general overall feeling of being unwell.
My favorite way to use essential oils when I start to get sick is through steam inhalation in the shower or bath or by using a diffuser. You can rub some blends directly on your skin, however you need to use caution because they can be irritating to some. Also, if you are pregnant you should consult your doctor before using essential oils.
Basil – useful in treating colds, aches and pains
Bergamot – useful in treating fevers and coughs
Cinnamon – useful in treating colds, flu, coughs and viral infections
Clove – useful as an analgesic and antiseptic
Eucalyptus – useful in treating sore throats, coughs, sinusitis, aches, pains and as an antiseptic
Lavender – useful in treating colds, flu, coughs, sinus congestion
Peppermint – useful in treating fevers, flu and can ease breathing
Sandalwood – useful in treating colds
Tea Tree – useful in treating colds, flu, bacterial and viral infections
Thyme – useful in treating bacterial and viral infections also helps to boost immunity
There are many books and online resources for finding oil blends but I recently came across a great book by Stephanie Gerber titled "Essential glow." Below are a few of her recipes and I encourage you to check out her site at HellowGlow.com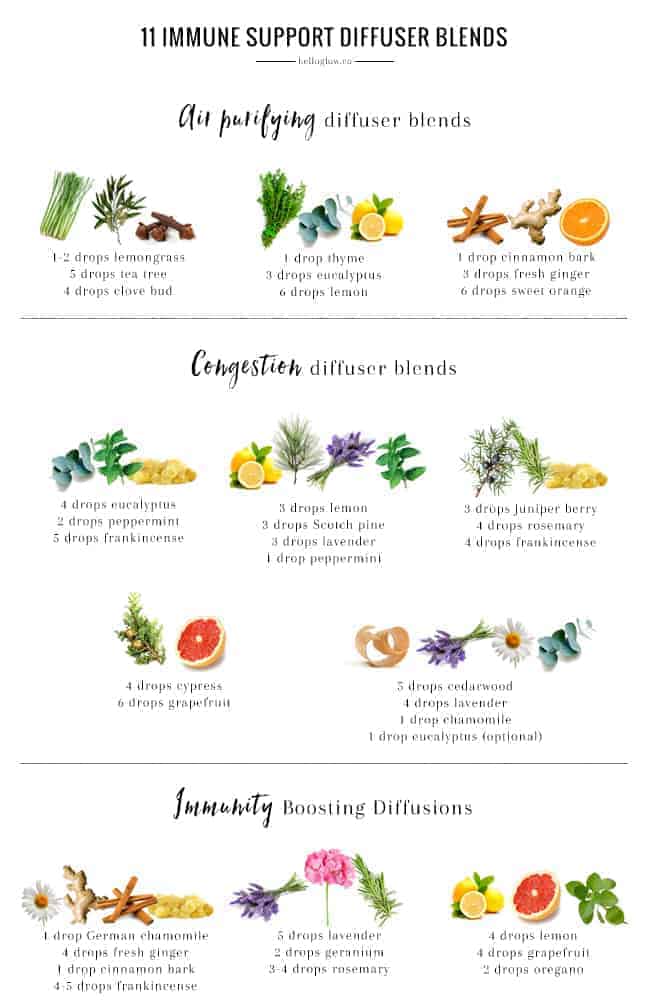 Thanks for stopping by, Share the Happy!